These are structural steel sheets that stand out due to their increased resistance to atmospheric corrosion, their quality, processing requirements and properties are governed by the EN 10025-5 regulation. You can also find them under the name Atmofix. They are classified as patina steels and therefore do not require additional surface treatments. You can use them for a variety of architectural applications as well as supporting steel structures for bridges or masts in high-voltage transmission systems.
Need more information? Leave us your contact information and we will get back to you within 3 days.
Properties and use of Atmofix structural steel sheets according to EN 10025-5
Atmofix structural steel sheets are excellently weather-resistant and stand out in particular for their increased resistance to atmospheric corrosion. They have the ability to create a patina, which significantly slows down the formation and progression of corrosion. Thanks to it, the sheets do not require any surface treatments, such as anti-corrosion coatings. Atmofix structural steel sheets, the technical requirements of which are specified by EN 10025-5, are also excellently resistant to the effects of sulfur-containing atmospheres and have minimal maintenance requirements. They are thus an economically advantageous and more ecological choice.
Their high resistance ensures a long service life for all applications. It offers a wide range of uses and is also suitable for structures that are difficult to access, where it would be difficult to repair the coatings in the future. They are mainly suitable for bridge constructions, but you will also encounter them for chimney constructions or chimneys or masts. You can also use them when building shipping containers, cladding buildings or creating outdoor works of art. Thanks to their excellent properties and unique appearance, they will find use in many not only industrial sectors.
Choose from a wide range of sizes. We supply sheets in the following dimensions:
length: max. 18,000 mm,
width: 1000-3200mm,
thickness: 5-100 mm,
weight: max. 12,500 kg.
The stated dimensions are only approximate. The resulting appearance depends on the combination of individual parameters and material specification. Upon agreement, we are able to produce sheet metal up to a length of 21,000 mm and a thickness of 200 mm. For more information contact us.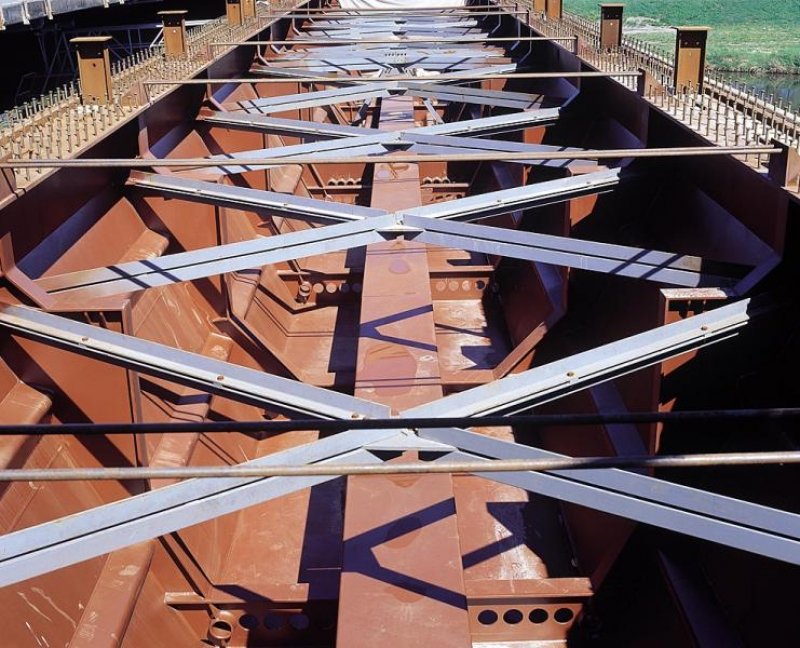 Equivalent marking of steels
| EN 10025-5 | EN 10155 | SEW 087 | CAN/CSA - G40.21-M |
| --- | --- | --- | --- |
| Quality S355J0W | S355J0W | - | - |
| Quality S355J2W | S355J2G2W | WTSt 52-3 | 350AT |
| Quality S355K2W | S355K2G2W | - | - |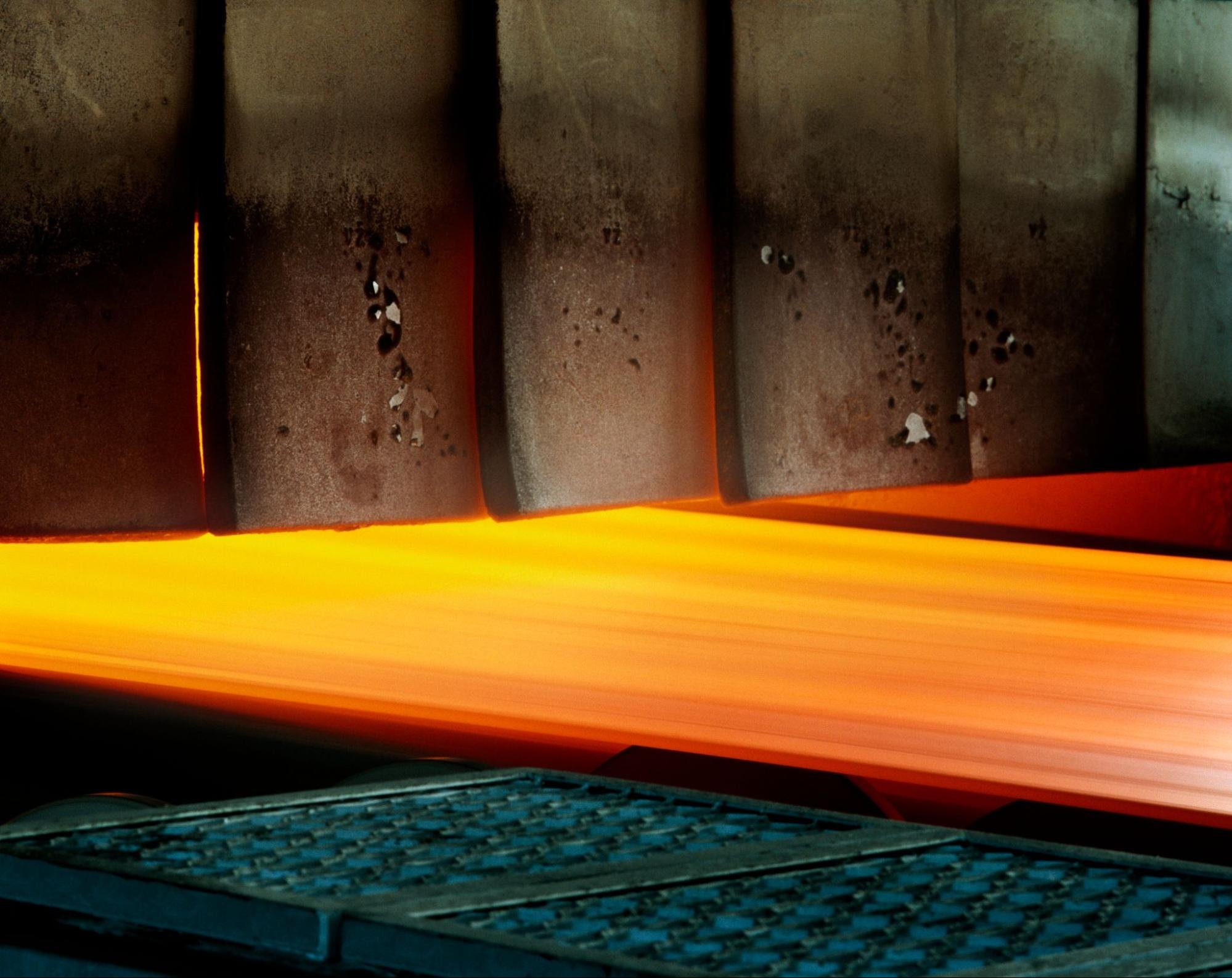 Basic characteristics of individual qualities
Steel brand
Minimum yield strength
ReH2) [MPa]
Strength limit
Rm [MPa]
Minimum ductility
[%]
Minimum impact work
KV [°C/J]
CEV max.1)
Thickness
[mm]

S355J0W/1.8959

355
470–630
20
0/27
0,52
6-80

S355J2W/1.8965

355
470–630
20
−20/27
0,52
6-80

S355K2W/1.8967

355
470–630
20
−20/40
0,52
6-80
S355J4W
355
470–630
20
−40/27
0,52
6-80
S355J5W
355
470–630
20
−50/40
0,52
6-80
Valid for thicknesses up to 16 mm, larger thicknesses according to the standard
Realizations
Rojek highway bridge in Ostrava-Svinov, Czech Republic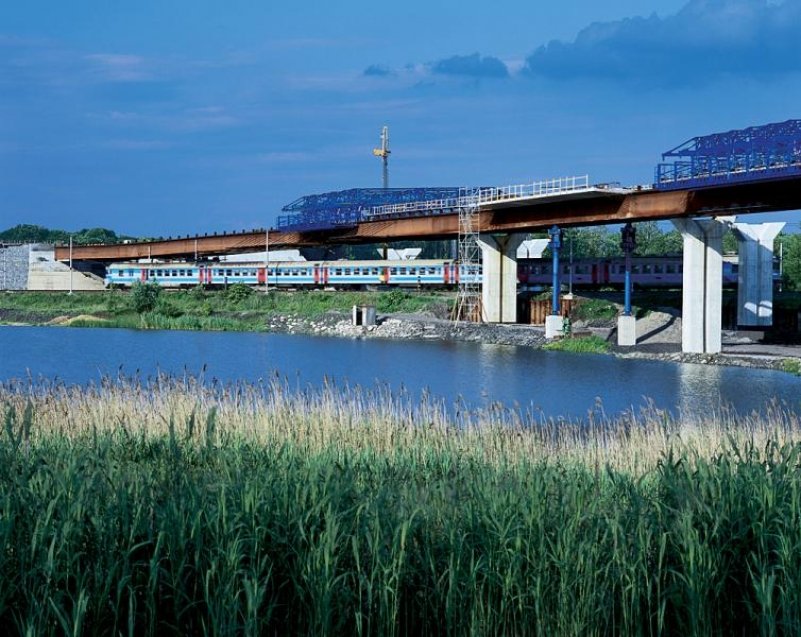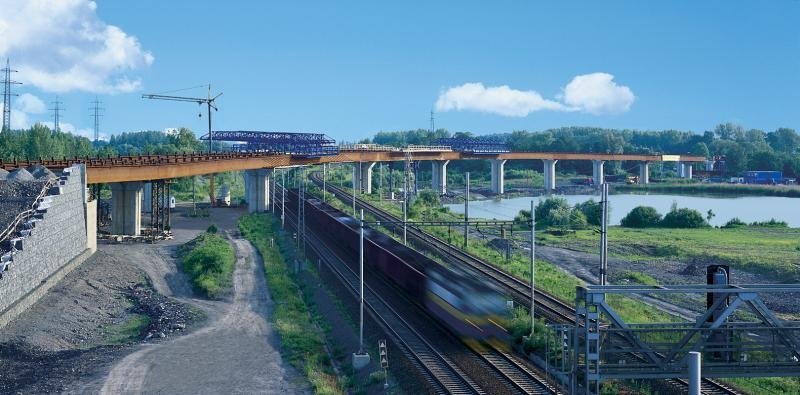 The highway bridge on the D47 leads over the Polanecká junction, the Rojek pond and the railway line.
The bridge consists of two parallel continuous beams with a length of less than 590 m. Year of construction: 2004–2005.
Consumed material: approx. 2,000 tons of sheets.
Highway bridge in Ostrava, Czech Republic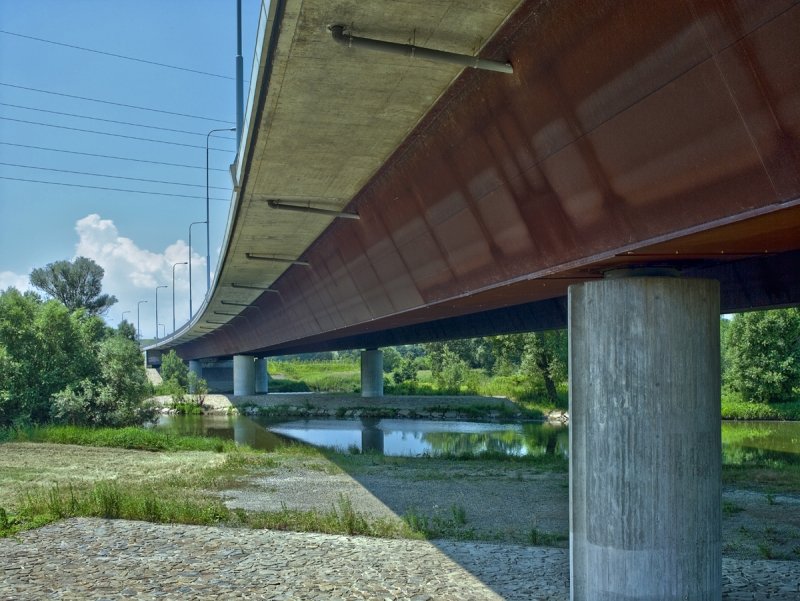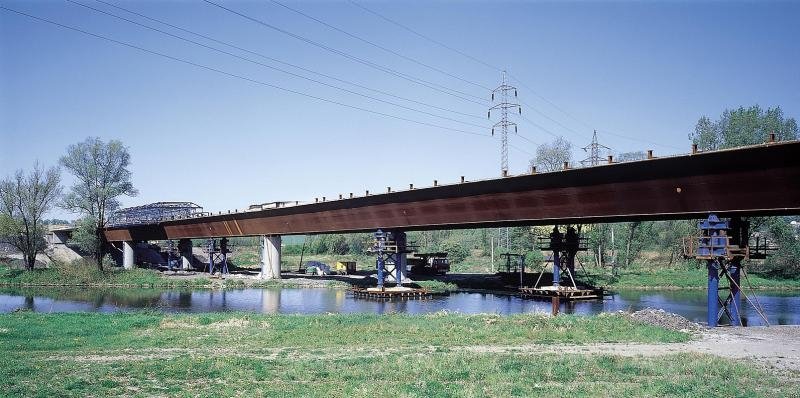 It is a highway bridge on the D47 over the Odra River in Ostrava.
The building is 402 m long. Year of construction: 2001–2002.
Consumed material: approx. 4,000 tons of sheets.